Khushy Shoppee
Regular price
Rs. 1,899.00
Sale price
Rs. 799.00
Unit price
per
Sale
Sold out
Viral on TikTok, Instagram - this golden hour lamp is the talk of EVERY town! This Golden Hour Sunset Lamp helps you have the most beautiful at-home photoshoot!
The sunset projection lamp has a soft diffused light that is great for lighting and taking aesthetic pictures/videos/reels. This sunset projection lamp can also be used for bedroom decoration, as a night lamp, living room sunset lamp, outdoor barbecue sunset night light, on-site background sunset lamp and much more. 
It makes a great GIFT for someone who loves to have a dreamt bedroom setup or even for someone who wants to add an aesthetic light to their workspace, house, or living area.
The Led sunset lamp can rotate 180° to bring different effects to your room. The angle and distance can be adjusted by rotating the sunset projection lamp head. The farther the distance, the larger the projection on the wall or ceiling.
Our sunset red lamp uses high-definition lenses, the sunset lamp rotating position is made of high-quality metal materials and the thick and heavy base provides a firm grip and stability for the sunset red lamp.
Specifications- 
Size : Height: 25 cm Diameter of the lamp holder, 7cm diameter of the chassis & 12 cm the lamp holder can be rotated.

Color: Sunset (Yellow Orange Red Gradient)

Material: Aluminum     
Features -
Sunset/sun/rainbow projection floor lamp, dream-like visual experience.

The light casts a striking colorful circular light on the wall, ceiling, and floor.

The angle of the lamp head can be adjusted and can be rotated 90 degrees forward and backward.

5V 5W USB power supply, cable with switch, USB cable with 1.5 meters long.


Our Sunset Lamps are a compact, gen-z type of home lighting that transforms any room into a mesmerizing experience. Once the light hits the wall, you're in for a treat. Inspired by Mediterranean sunsets we only get to see once in a lifetime, our Sunset Lamps replicate this lifelike experience.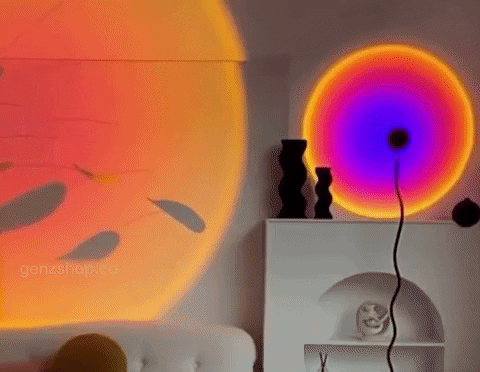 View full details